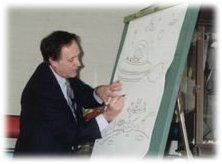 One of the favorite things about my job is traveling to schools to share art with children. I really enjoy drawing and engaging the students so that they have an interactive experience. My personal objective during each visit is to bring out their creative side making drawing and producing art fun, as well as exposing them to children's book illustration.
My personal experiences as a children's book illustrator make students in kindergarten through sixth grade the perfect audience for my visit, although, I am easily able to adapt my presentations to groups any age.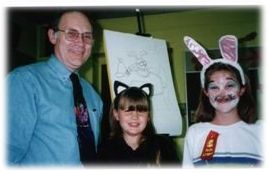 My "art experience" sessions typically last around 30 minutes and I usually visit a school and conduct many small group sessions. During the presentation I do drawing demonstrations, talk about "life as an artist" and take the students through the process of making and illustrating books. The students draw along with me and are encouraged to make up their own characters for books as well as to write a short story.
I am always available to autograph books for the students and books may be purchased upon request.
For more information about my "art experience" sessions, please call my office at (419) 768-2204 or e-mail me at ben@bentonmahan.com .